Oh my cherry pie! Today I was going to be lazy and not post until after my evening shift at the pool, but then I saw that my favorite blog series is up and running,
Gentri's 7 Questions
, so obviously I haaaad to change my mind about that. haha!
Funny Picture of the Week:
my sister Rachel (right) my mom, and I (left) holding my little nephew. Isn't he precious? I love all of our faces in this picture. Also, ignore my double chin. Sometimes that happens when I'm really happy:)
1. It's the first day of August- Are you savoring the Summer or ready to jump into Fall?
Summer is one of my favorite parts of the year, but I try hard not to hold on to the past. There are good things about fall too. Like pumkin chocolate chip cookies. YUM!
2. You need a quick and healthy meal, what do you make?
Fruit. That's kind of the only "quick AND healthy" meal I can think of at the moment...but fruit is delicious. And rather speedy. Wash it and go!

3. You're at the mall, how do you shop?
With purpose: get in, get out, get done. I like to shop, but only when I know what I want, you know? the worst thing for me is to shop around for eons and then leave with nothing.

4. Would you rather buy a new house or renovate an old one?
renovate an old one! the oldies have character that I love! Or I'd build a new house to look old. That'd be cool too. And by "I'd build a new house", I mean I'd end up paying for someone else to do it:)

5. Long hair or short hair?
long! I love my long curls. For a while I would chop my hair to my shoulders for locks of love every other summer (also because the end was so dead from all the chlorine from working at the pool), and it was so hard for me that the only way I got through it was to remember that it was for the children:) but I have no plans on cutting it all off again any time soon.

6. Who is your oldest (not by age) friend?
My entire family. We moved around a lot growing up, so sometimes we would just have eachother to play with. And we have become such great friends. (I have 3 sisters, so we played a lot of dolls and dress ups and such growing up)

7. What is your favorite blog- currently?
I really really love "
Ruffles and Stuff
". First off, the lady's name is Disney. That's right. Awesome! And she always has such an inspiring attitude and beautiful projects, posts, and pictures. And her daughter is pretty adorable, too:)
thanks for bringing them back, Gentri!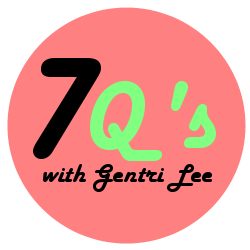 have a lovelee day!
-Lee