Hey, guys! Here's my weekly link up to Gentri's "7 Questions" series...

of course, my Funny Picture of the Week:
so...this one time, I had a cotton candy that was as big as my face. My mom didn't let me/my sisters have these as a kid...for a reasons I discovered after consumption. Maybe Lauren got a little too happy? :) Notice how I couldn't tear it away from my mouth even for a quick picture. haha!
1. It's back to school time! Are YOU going back to school?
I am, indeedie! I'm at BYU studying Music and Elementary education. It'll be my second year, and (bad a bah bah bah) I'm loving it.
also, this is one of my all-time favorite songs, and it's rather fitting at the moment:
2. Speaking of back to school... You receive 10 pts if you can name this movie:
"Don't you love New York in the fall? It makes me wanna buy school supplies. I would send you a bouquet of newly sharpened pencils if I knew your name and address. On the other hand, this not knowing has its charms."
"You've got Mail"! I just saw that about a month ago for the first time and I really don't know how I survived life without seeing it. SO cute.
3. Who did you hang out with in school? Cool kids, jocks, nerds, were you a loner, etc? (all are welcome here- btw)
hmmm...my friends are all really smart, but I don't think we were nerds...but maybe we were. That's embarrassing. No, I think we were just "those kids"...you know?
4. What was your favorite subject in school?
ANYTHING besides Science. Yuck, yuck, yuck. My senior year (it's really weird to think that that was TWO years ago...) I was able to take a few classes where I worked as a teachers aide in a 5th grade class which was so fun, and then later as a preschool teacher.
5. (I've asked this question before, but it was a while ago) If you had to go back and redo one of the following, which would you choose and why? Preschool, Elementary, Middle School, High School, College?
I loved elementary school so much that I'm going through all my education just to get back to it!
6. Home/ Packed Lunch or School Lunch?
Oh, definitely home lunch. It's like a little bag of love. I'd love it when my mom would write love notes on our brown bags, and on our birthdays she had a tradition of wrapping all our food up like a birthday present. It just made me feel special, you know?
7. What's more exciting? The first day of school or the last day of school?
Oo, that's a toughy! I'd say they're equal, but for different reasons. The first day of school is exciting because you have new teachers, new clothes, new school supplies (and in my case, a new school...[my dad was in the Air Force]). BUT on the last day of school you feel so much freedom. Especially the last day of your senior year. That feels niiiiice.
Okay, I found another funny cotton candy picture of me. Again, notice how I can't stop eating. And also how the size of the candy has gone down immensely. haha!
Click the picture below for other great link ups.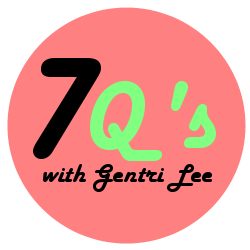 and...