Hello there, friends! (and new friends)
Here's my little link-up to Gentri's 7 Questions series. First, of course, my funny picture:
this was my last day of work for the summer. Who can find me? Hint: I'm in a swimsuit. haha:)
1) Hamburger or Hot Dog?
Oh, definitely a hamburger. What's even in a hot dog? That's one of the great mysteries of life. The 8th wonder of the world. Catch my drift?
2. If you had to live on any other planet in our solar system, besides Earth, which would you choose?
I think I'd go give Pluto a little love. Pluto, you'll always be a planet to me:)
3. Share a photo of an outfit that represents your personal style, please. (doesn't have to be of you)
I really love peter pan collars, bright lipstick, and a retro 'do. I feel like this picture is kind of all three in on. Gotta love that.
(via)
4. Would you rather get ready for the day or get ready for bed?
Get ready for bed! I love being all snuggly warm and cozy inside my pjs and such. SO delightful.
5. You have to choose between never having eyelashes or never having eyebrows, which would you choose?
As fond as I am of my eyelashes, I'm going to say never having them. It's easy to look good with fake eyelashes, but fake eyebrows? uh... (it's funny, my roommates and I were just having this discusion last night. We all would rather have no eyelashes!)
6. What do you want to be when you grow up?
I want to be a mother. hands down. I'd also really like to be an elementary school teacher, as that's the reason I'll be in college/broke for about 4 more years... haha:)
7. Do you set your clocks right on time, or a few minutes ahead or behind?
Ahead...I have a little bit of anxiety (hey, it runs in the family) and setting it ahead gives me a bit of a buffer time between when I think I have to go and when I actually do. Also, it's a lot easier to wake up when you think it's 7:30 but it's really only 7...it does make a difference!
click the image below for other great link-ups: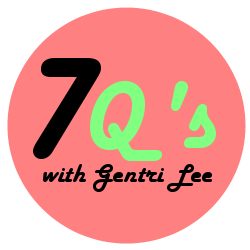 and have a lovelee day!
-Lee